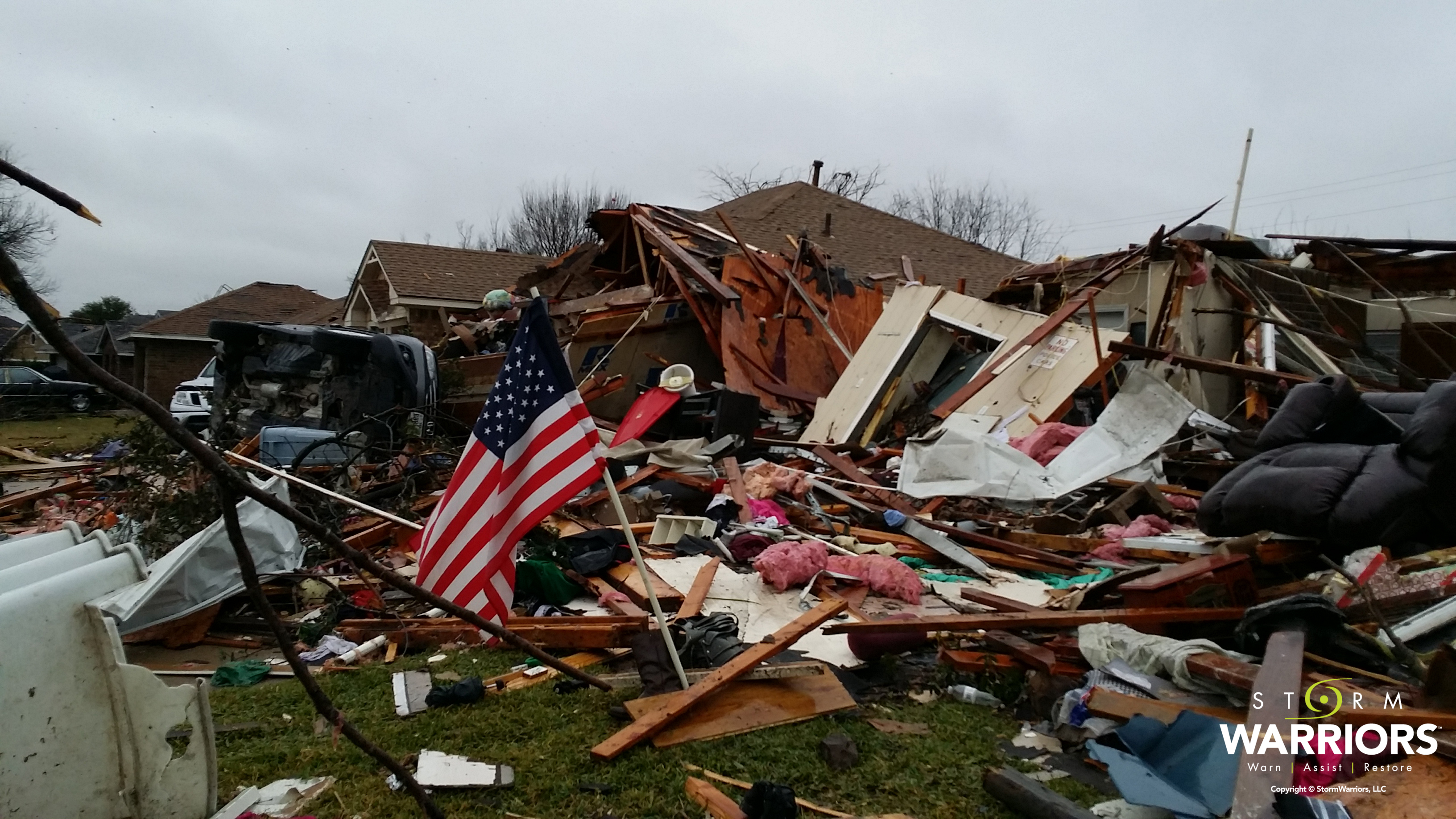 26 Mar

Too Close To Home

The day after Christmas is supposed to be a time for family celebrations, not tornadoes.  A warm, moist 82° day is more like April than the end of December, but then again December 26, 2015 wasn't an ordinary day.

Storms were in the forecast and we knew they would be bad.  I don't get nervous chasing but this day was different.  This time of year people aren't expecting tornadoes.  But tornadoes don't need a calendar.  They only care about the right ingredients.  And it was going to be close to home.

The stronger storms started firing around 4 o'clock that afternoon.   My wife Teresa and I was chasing together that day and we quickly got on a tornado warned storm outside of Waxahachie and followed it into southern Dallas.  It was trying to create a tornado, but all the ingredients weren't quite there… yet.  While we were still on that cell, I noticed the one coming up behind it was making a bee-line for my home.  I had about a 30 minute window before it would be in our area and I knew this one would go tornadic, as it already had that look.  Also, as the sun set that evening, it was moving into a much better environment for tornadoes.

I called my brother-in-law, who was home watching our kids, to take the kids and head west (out of the way) and wait it out.  I didn't want them home in a storm without me.  My wife and I turned back south and headed toward that storm that was quickly approaching our community.

Looking at the radar, I could see the tell-tale "hook echo" of a tornado on radar.  And the hook was directly over our neighborhood.  My heart sank.  I have never had that feeling before.  The feeling that my home may be getting hit by the tornado.  I was frantically texting everyone I could think of that lived near us to take shelter.  One lady from our church later telling us that her adult children who were over for a Christmas celebration weren't take the sirens seriously but when she got my text, they took shelter.  The tornado struck right behind their house.

My wife and were travelling very cautiously west on Ovilla Road aware that the tornado, which was now evident only when lit up by power flashes, would be crossing near us.  We just didn't think it would cross that close.   As we approached the intersection of Ovilla and Hampton, the winds went from a slight breeze to hurricane force in a second.  We were bombarded by tree branches and other small debris.  A trash can hurled by us on the road.  We were in the outer circulation of the tornado as it crossed the road less than a quarter mile in front of us, hitting Shields Elementary school.  We quickly circled back to get out of the way, then headed north on Hampton Road into Glenn Heights as we watched it power through the neighborhoods there.  Our route north was blocked by downed powerlines and we noticed the Harvest of Praise Ministry Church next to us that was obliterated.  Only the steel structure remained, no walls, not much of a roof.  There was a truck buried under debris in the car port and we quickly pulled in just as the pastor and his wife were walking out of the church.  Somehow, but God's grace, they were mostly unharmed, except for a few minor scratches.

We found out shortly after that, that our home and our church was spared from the tornado.  Coming less than a mile from both.  I spent that night helping do search and rescue in that Glenn Heights neighborhood and the next few days assisting with the clean-up.  Many months later, I still see scars that bear witness to the devastation of that post-Christmas night.  A feeling I certainly never want to have again and an event I don't ever want to repeat.  Too close to home.

Don't think it cannot happen to you and your family.  Tornadoes can happen any time of year.  Be weather aware and have an action plan.  Know Where To Go™.

– Mike P.