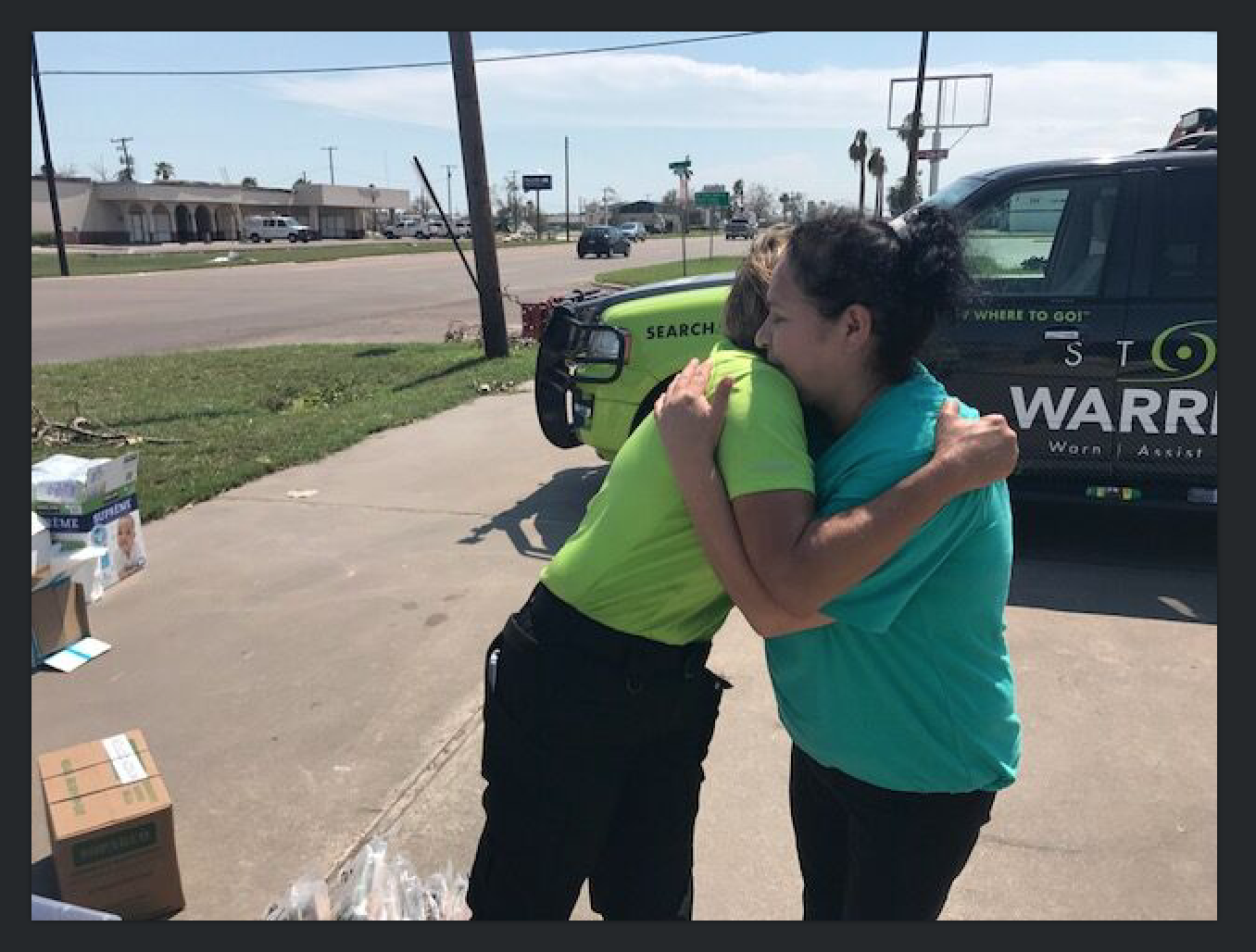 06 Sep

They Have a Name

You have heard the name Harvey thousands of times over the past couple of weeks and will, no doubt always attribute devastation and wreckage to that name from now on. Let me give you a few other names to remember; names that have become synonymous with hope, joy, peace, and restoration.

Her name is Connie. In the middle of the confusion and desperation there was a brave woman who we met in Rockport, Texas. She was bold, tenacious, and not just a little spunky, but that is not what impacted our team as we delivered the first semi trailer of supplies to her church for distribution. Connie was a force of joy. Everyone who showed up at New Beginnings Church was confronted by her exuberance. Although she had already been working tirelessly from dawn to dusk everyday since Harvey ravaged her sweet coastal town, she never missed an opportunity to bless those she was serving with her joyful hugs and positive outlook of the future. She is confident that Rockport will not only recover from the storm known as Harvey, but will be better and stronger that it was before. She convinced many families of this truth.

His name is José. With sweat pouring from his brow and a heavy load of supplies in his hands, José never failed to greet those coming for supplies with a smile, brotherly acceptance, and love. We witnessed countless encounters with the families in the community of Rockport where men would show up a bit angry at the calamity that had just destroyed his family's home. They were hot, tired, hungry, thirsty, and were looking for some kind of relief from the storm still wreaking havoc on their family in the aftermath of Harvey. What they found was hope and a new beginning to their restoration. José went to work for every family who arrived, gathering the unique provisions each one needed and sending them on their way refreshed, hopeful, and provided for.

They all have names. Evelyn needed specific products to take home to her twelve-year-old daughter. Yvonne had two toddlers in the back seat of her storm wrecked crossover were barefoot and diaperless. Kevin had an aging mother who required sugar free food. George needed to tell someone he was not the strong emotionless man his family had been seeing since their home was destroyed. Cindy couldn't carry enough supplies back from to her home in Aransas Pass where three families were staying with no electricity or running water. Maria's baby needed size 2 diapers, but would make size 3 work. Manuel just stopped to see if we could spare some bug spray and only took the box of snacks and toiletries when we assured him there was plenty. Many were too overwhelmed to receive our hugs and prayers as they rummaged for what they needed. Whether we knew their names or not, they did not escaped our blankets of prayers. We took every opportunity to make sure they new God loved them and that we were honored to be the hands and feet of so many generous people who made the supplies of water, food, and other items available.

You have a name. Whether you sent StormWarriors on their way to the coast with money, water, or other supplies or joined us by driving a semi-truck, or remained home but coordinated the efforts of sorting supplies, gathering donations, connecting people to help— you have a name. We are grateful to you all. The people in the path of Harvey are grateful. God is pleased. Thank you to everyone who has answered the call and responded to this great need.

Harvey is the name of one of the most devastating hurricanes to hit the coast of Texas. That name will be remembered. There are so many other names that will be remembered by the Lord who not only answered the call to help but also sacrificially made a way for restoration to begin in the aftermath of the storm. They all have names. And the name above all names, Jesus, loves them all.