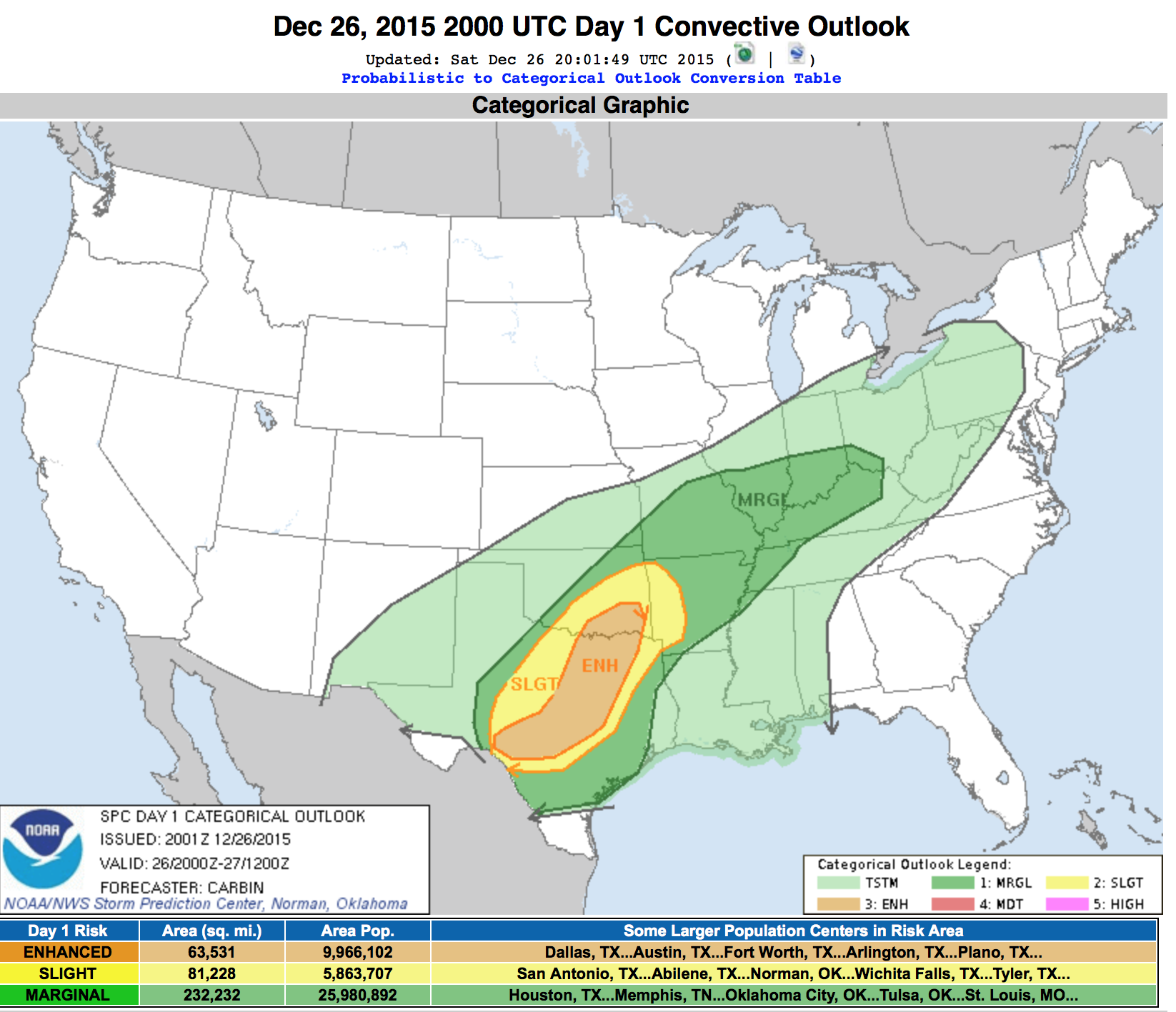 11 Apr

Enhanced Risk

Notice in the image that the enhanced risk area had the potential to impact almost 10 million people!

On December 26, 2015, we woke up to an enhanced risk of severe storms that potentially could produce tornadoes in our area and east of the Dallas, Fort Worth metroplex. It really wasn't what we were expecting that morning because up until then, the Storm Prediction Center was only indicating a slight risk the day before. With this new information, our family did what it has done many times; we changed our plans and began the preparation for our deployment.

At about 2:00 p.m. we headed south out of Fort Worth for our target city of Rio Vista Texas, a town we were familiar with due to a tornado touching down in that city the year before. We stopped and talked with the local police at a convenience store about the weather threat and gave them additional information to pass on to their community. We told them that we were watching the cells developing out of the south and moving north-by-north east toward the Dallas, Fort Worth area and indicating that one of these cells could potentially be very dangerous.

Then when we saw it. Our next radar loop showed one particular cell developing southwest of Waco and seemed to be quickly strengthening and had indications of large scale rotation. We said our good byes to the Rio Vista policeman and headed to the town of Hillsboro to intercept it. We had a tangible feeling about this one and it was not good.

As we travelled west of Hillsboro, Danielle, and I were watching a wall cloud developing as the cloud base began to set down.   We observed the rain curtains wrapping closer together and realized that at any moment this storm was going to produce a tornado. We followed it northeast as it passed over the I-35E and I-35W split heading right toward the metroplex. We contacted our chasing partner Mike Prendergast who was reporting live to the media about what we were seeing.

As we repositioned to get a closer look out side of Maypearl, Texas, looking north east, we could see the base of the storm had lowered completely to the ground as we heard Mike out in front of the storm confirm the worst. There was a tornado on the ground. Our hearts sank in fear for the families in its path.

When we caught up to Mike, there was damage and debris everywhere. We immediately began to help as other emergency management personnel were being deployed. The Incident Command Chief asked Danielle and I to assist a team of firefighters in searching sections of the Glenn Heights area. We grabbed our equipment and Go Bags and gathered with the team going house to house.

As it turned out, 14 people lost their lives that day and for the most part, it was unnecessary. It is our belief and our goal that "No one should die from a tornado". There are still many unanswered questions about that day. Did people not know about the forecast? Did they have no place to go? Did they not give themselves enough time? Should they have stopped and gotten out of their cars and gone into a safe structure?

This is why we do what we do. To Warn communities, Assist when needed and help Restore hope into families and communities. Let the Storm Warriors Team come and speak to your schools and communities about being aware and educated so no one ever dies from a tornado.

BE AWARE and KNOW WHERE TO GO™. It is everyone's responsibility. Let StormWarriors.tv help prepare your family, Home Owners Association, or Volunteer Fire Department, with helpful tips and practical tools to keep you save when severe weather strikes.